Interviews

Susan Calloway
ENGLISH VERSION |

ITALIAN TRANSLATION
If there's one thing that the Final Fantasy VIII soundtrack taught us, that must be that singers are
"more than the dress and the voice"
- but what do we know about all those that voiced some of our favorite songs from
Final Fantasy
?
Susan Calloway
surprised her audiences with her performances during
Distant Worlds
concerts, where she sang not only "Answers" (from
FFXIV
), but also some of the songs that Final Fantasy fans love the most. What are her favorite pieces? After working close with Nobuo Uematsu, what does she think about him?
Which song is better between "Eyes on Me" or "Kiss Me Good-Bye"? If you are eager to find the answer to all these questions, you just have to go on and read our exclusive interview with Susan Calloway.
~~~
01. When did your passion for music start?
When I was 5 - I immediately dove in. :)

02. Many Final Fantasy fans know you because of your performances at Distant Worlds concerts, but when did your career as singer and songwriter begin?
When I was very young. I started performing on stage when I was 9 and writing music when I was 12. I actually gave concerts at that age - playing piano and singing my little songs.

03. How did you start your collaboration with Distant Worlds?
Through Arnie Roth. I sang two songs for an audio CD of FF music. The fans really responded. So he asked me to come to a live show and the fans once again gave the thumbs up!! Nobuo really liked my voice and after seeing me live, asked me to sing "Answers" for FFXIV.



04. What did you know about Final Fantasy before?
I knew it was a very popular game but never knew how awesome it was!

05. What is it like to work with Annie Roth and Nobuo Uematsu? What do you think about them?
They are both incredibly talented and awesome to work with. I have learned a lot from both of them. It is an honor to be a part of their roster!

06. What do you think about "Answers"? Does it feel like one of your songs?
It is a great song. I have tried to make it my own but it is a very different style than my own music. When it starts rocking out, it sort of sounds like a Susan song at that point!

07. During the years, you got to sing different songs from Final Fantasy, do you have a favorite one? Which one is the most difficult to sing?
The most difficult is "Memoro de la Ŝtono ~Distant Worlds~"... 'cause it is SO high!! I really have to warm up for that one. :) My favorite is "Kiss Me Good-Bye". I love the words and it has come to mean something to me. I also think it is the most like a pop song, which is more the world I come from. I really love that one.

08. Would you like to include one of these songs on one of your next albums?
We have thought about it, but I think it might be better to release them as singles for the fans. But that could change!!

09. Among all the pieces you have listened to during Distant Worlds, what is favorite one?
I LOVE "To Zanarkand" and the Opera - but there are others that I love too.

10. What's the best memory you have from your touring with Distant Worlds?
One time when I was performing "Eyes on Me", I did this lick that Arnie wasn't expecting and he gave me the funniest smile on stage. It's like he really liked it and he was surprised all at the same time. I always try to inspire the other musicians with my performance. When you can feel that you are doing that, it is magical. :)



11. On your YouTube channel you have uploaded your cover of Beyoncé's single "If I Were A Boy". What do you think of these "pop princesses" and "queens" that are so copious in the music industry?
I think there are so many different artists our there and there is room for everyone. We all have something to offer. We just have to find our own niche. I try not to judge other artists in a negative way... because I would feel so bad if someone did that to me, ya know? Most artists have something positive going on... or they wouldn't be successful. My favorite artists are the ones who sing from the heart, have great meaningful lyrics, and also try to be a good role model / take their fame seriously.

12. Is there any popular song you wish you had written?
Hmmm... "Happy Birthday". Ah ah - I'd be the richest girl in the world!

13. Who is your favorite artist?
Many - right now, probably Adele. But for most of my life, U2.

14. Who would you like to sing a song with?
Bono. That would be the BEST. I love his voice and his heart.

15. What do you think about all these talent shows like "The Voice" or "American Idol" that are so popular nowadays?
It is amazing how much everyone likes them, isn't it? They are cool - it's interesting to me how into it people are - I find that fascinating.

16. How long did it take you to produce your last album, "Chasin the Sun"?
LOTS of work. I think this next CD will be easier.

17. Listening to your album, I felt like each song was a page from your diary. How much of your personal life can we find in "Chasin the Sun"?
Aw, thank you! That is sort of what I was shooting for. "Chasin the Sun" definitely sums up my journey so far.

18. Which song is the most autobiographical one?
Probably "Lay It Down". It is where I am at now, just trust God with everything and don't worry so much. Simple but also true.

19. What is your favorite song from "Chasin the Sun"? Why?
I think it is "Chasin the Sun", the single. It really captures the struggle I have felt over the years trying to get my career off the ground. I especially like playing it unplugged - like the video we have on YouTube.



20. Music or lyrics? When you create a song, which one comes first?
I have started songs both ways actually! Usually it is the lyrics though... the music has to be inspired by the subject of the song, I think. Not the other way around. But sometimes you get lucky and it works.

21. Where do you find the inspiration for your songs?
Through my life experiences and relationships... but also from people close to me, what they are going through and dealing with. I also get inspired by movies too - if it moves me a certain way, it sometimes inspires a song.

22. Do you think it's true that the more a artist suffers the more he is able to produce?
It depends. I think that you need to be focused to be a good artist. For some people that is suffering 'cause when you go through pain, that is all you see and you focus on that. But focus can also come through other things - change, inspiration, love, etc.

23. How would you describe your relationship with music? How do you listen it?
It is a labor of love - it is the most difficult thing, but also the most amazing thing all at the same time. When I'm working on new songs I mostly listen in the studio - REALLY LOUDLY. That is my favorite way to hear it .

24. What is the most played song on your iPod (or on your PC)?
That changes quite often... right now I'm listening to Adele, Coldplay and OneRepublic a lot. One of my go-to favorites is Radiohead though... I completely love that band.

25. Have you been working on something new recently?
YES! A new CD that will come out later this year.

26. Is there a song, a book or a movie that most influenced your life?
There are so many, not just one. Here are some highlights: the book that has influenced me the most? The Old Testament. The movie: The Shawshank Redemption.. And the song, probably "Almost Hear You Sigh" by The Rolling Stones. They really captured me musically with that one.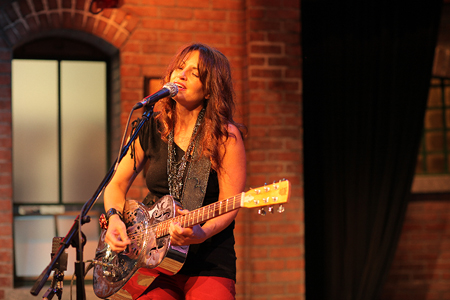 Links:
- Susan's
official website
- Susan on
YouTube
-
@SusanCalloway
on Twitter
Interview and Italian translation by Andrea Bernardi (andrea.bernardi88@gmail.com)